The Painted Hall at the Old Royal Naval College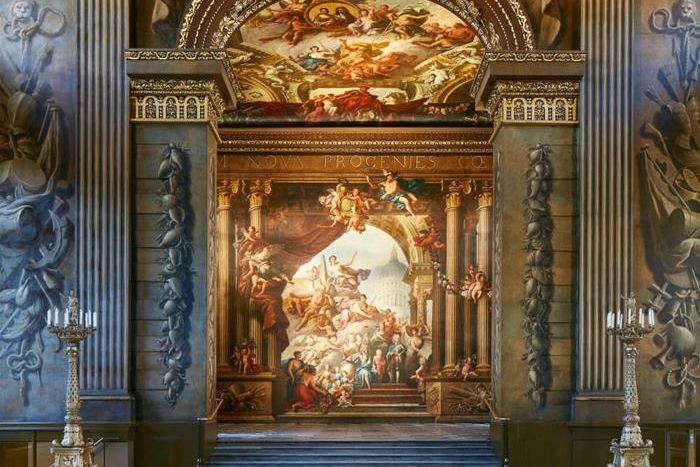 Important Information
Opening Times:
Entry Available: Daily 10:00am – 5:00pm (last entry 4:30pm)
Entry to Grounds Available: Daily 8:00am – 11:00pm
Location: The Painted Hall at the Old Royal Naval College, King William Walk, London SE10 9NN
Please note the Painted Hall will be closing early on the following dates:
Tuesday 21st March – closing at 4pm
MORE INFORMATION
Discover this spectacular UNESCO World Heritage site in London and winner of Large Visitor Attraction of the Year at the Visit England Awards in 2020. Its magnificent architecture and beautiful riverside setting reveals an extraordinary 500-year history.
Explore the peaceful riverside location and Sir Christopher Wren's iconic architecture. The stunning buildings and grounds are where great stories unfold from kings and queens to heroic lives and creative geniuses, from Henry VIII, Queen Elizabeth I to Vice-Admiral Lord Nelson.
Experience 'Britain's Sistine Chapel', Sir James Thornhill's breathtaking Baroque Painted Hall and discover 40,000 square feet of awe-inspiring paintings, the newly renovated Nelson Room, the glorious Chapel of St Peter and Paul, and the Skittle Alley where you can try your hand at Victorian bowling.
It is a place of art and culture where you can enjoy a Film and TV tour of "the most popular filming location in the world" - a fascinating behind-the-scenes look at the Old Royal Naval College as the setting for hundreds of blockbuster films and TV series including Pirates of the Caribbean, Les Misérables, Cruella, The Crown and Bridgerton.
Join regular tour throughout the day given by our expert guides.