Hampton Court Palace, Gardens and Maze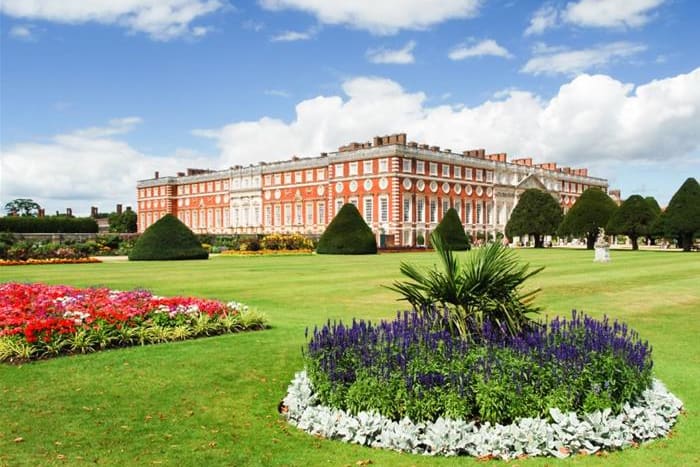 TOUR DESCRIPTION
Walk in the footsteps of Kings and explore the lavish Tudor State Apartments
Discover the vast Tudor kitchens where Henry VIII's meals were prepared
Wander through the gardens and find your way out of the world's oldest maze
Costumed actors will guide you through the vast palace
See exquisite works of art from Holbein, Van Dyke, and Rembrandt
Important Information
Please Note:
Please select your chosen day of visit and if a timeslot is needed, please select one. Otherwise, you are free to enter at any time during entry hours.
Venue Information:
Hampton Court Palace, East Molesey, Surrey KT8 9AU
Nearest Train Station: Hampton Court
Bus Routes: 111, 216, 411, 451, R68, 513
Planned closures:
24th to 26th of December
MORE INFORMATION
A tale of two histories, Hampton Court Palace was originally designed by Cardinal Wolsey, a favourite of Henry VIII's, before being developed by the King himself. Expanding on the Tudor splendour, Sir Christopher Wren added a touch of Baroque grandeur for William III and Mary II in the 17th century.
Opulence and beauty greets you in every room as you stroll through this historic palace. See if you can find the entwined initials of Henry VIII and his ill-fated second Queen Anne Boleyn in the Great Hall, or spot Catherine Howard's terrified ghost running along the Haunted Gallery to plead her innocence to Henry.
Sneak in to the vast kitchens where extravagant Tudor meals such as roasted swan and poached dolphin, and wander through the Chapel Royal, developed in to its current beauty in 1710 by Christopher Wren for Queen Anne. Continue in the Baroque period by walking through the beautiful and theatrically designed State Apartments.
When you've marvelled at the masterpieces of artists Holbein, Van Dyke and Caravaggio, head out in to the 60 acres of stunning formal garden and see if you can escape the oldest surviving maze in the world.